Chinese activist escapes from custody
Chen Guangcheng had been under house arrest for more than 18 months
The blind activist has evaded his guards and fled to Beijing, a friend says
He is weak physically, but is in good spirits, the friend says
Actor Christian Bale was roughed up in an attempt to visit Chen last year
Beijing (CNN) -- A prominent blind Chinese activist has made a dramatic escape from house arrest in Shandong province and fled to Beijing, a friend and fellow activist said Friday.
Chen Guangcheng was driven to Beijing on Sunday after evading his guards, according to He Peirong, his friend who says she traveled with him.
Chen, 40, had prepared for his escape for months, He Peirong said, by lying in bed for prolonged periods so that the guards wouldn't be suspicious if they didn't see any activity from him for a long time.
Once escaped, Chen asked He Peirong and a few other activists for help, according to He Peirong. They met him at a rendezvous point, and then drove him to Beijing and hid him in a safe house, she said.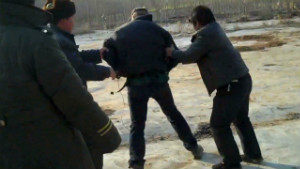 'Batman' star roughed up in China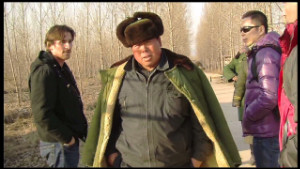 Chinese using Web for political satire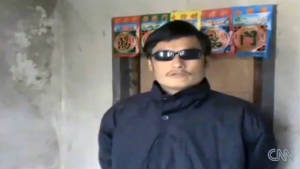 Chinese activist truly free?
Repeated calls to the local authorities in Shandong rang unanswered.
The blind activist is relatively weak physically but his spirits are high, said He Peirong, who last had knowledge of his situation Thursday.
There have been concerns about Chen's health during his more than 18 months under house arrest.
Sympathizers and journalists were prevented from visiting him, including the Hollywood actor Christian Bale, who was roughed up by security guards during an attempt to see Chen in December.
Chen had been confined to his home along with his wife, mother and daughter since he was released from prison in September 2010.
A local court had sentenced him to four years in prison for damaging property and disrupting traffic in a protest.
His supporters maintain authorities used trumped-up charges to silence Chen, a self-taught lawyer who rose to fame in the late 1990s thanks to his legal advocacy for what he called victims of abusive practices by China's family-planning officials.
Last year, in a video smuggled out of the country by a U.S.-based human rights group, Chen described his dire conditions of being a prisoner in his own home.
"Those people stand at the four corners of my house, spy on my family and monitor what we do," he said. "They installed floodlights and surveillance cameras around my house."
Source: http://edition.cnn.com/2012/04/27/world/asia/china-activist-escape/index.html?eref=edition