Tornadoes hit Dallas-Fort Worth area
NEW: Flights elsewhere in the country could be affected as Dallas-Fort Worth is a major hub
NEW: "Debris was flying and we were trying to decide where to go," says one witness
NEW: The Cowboys stadium suffered no serious damage
Tornado watch remains in effect for much of north-central Texas through Tuesday night
Read more coverage from CNN affiliate WFAA. Are you there? Stay safe and send photos or video.
(CNN) -- Tornadoes ripped through the Dallas-Fort Worth area Tuesday, tossing tractor-trailers like toys, forcing airlines to cancel flights and causing widespread damage to homes and other structures.
Jonathan Cook said he was in a bank in south Fort Worth when the storm rolled in and he decided to leave. He went to a nearby gas station, where he ran into a friend whose window had been blown out and a National Weather Service worker with a radio who told them tornadoes were touching down nearby.
"A girl said 'Look up.' And there were two funnel clouds that touched down about an eighth of a mile up from us, and debris was flying and we were trying to decide where to go.
"About that time, she said, 'Look behind us' -- and a third tornado formed behind us, but hadn't touched down," Cook said. "And about three minutes after that, the sirens started sounding."
CNN affiliate WFAA broadcast striking video of damage, showing tractor-trailers being lifted and turned through the air like matchsticks. Ominous clouds filled the skies, making it as dark as night. The network showed roofs of homes ripped off and trailers turned on their sides.
One tornado was spotted on the ground five miles east of downtown Dallas, the National Weather Service said. Flights at area airports were affected.
Southwest Airlines canceled more than 40 flights at Dallas Love Field, while American Airlines canceled all flights through Tuesday evening at Dallas-Fort Worth International, one of the world's busiest airports.
The announcement, made via Twitter, was likely to affect American flights in other parts of the country. In all, American and its American Eagle partner airline canceled 234 outbound flights, according to a statement from American.
Meanwhile, severe damage was reported in Arlington, Texas, and the mayor of the city signed a disaster declaration to help cope with the destruction.
"It's extensive damage," said Tiara Richard, a spokeswoman for Arlington police. No major injuries have been reported so far, but affected areas were still being searched for people who may be trapped, she said.
Tarrant County spokesman Mark Flake said about 40 homes in Arlington sustained moderate damage. The Cowboys football stadium emerged virtually unscathed, according to its general manager.
The nearby city of Kennedale similarly suffered damage, said Kennedale spokeswoman Amethyst Cirmo.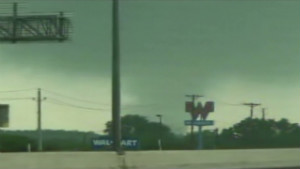 Tornado touches down in Dallas area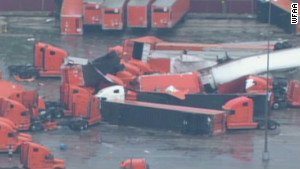 Tornado leaves truck trailers in piles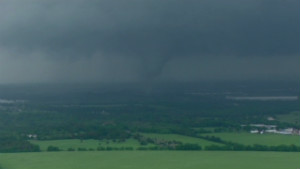 Twister rips through 18-wheelers, homes
A large water main broke and several people were injured, she said, though she could not immediately confirm how many. The city's police chief, however, said there have been no reports of deaths or injuries thus far. A community center was opened to residents displaced by the storm.
Dallas County Sheriff Lupe Valdez said the area was hit by "a series of tornadoes" that inflicted heavy damage on some of the southern suburbs, including Lancaster.
"Our officers are going to several locations right now," Valdez said. There were no immediate reports of serious injuries, but she urged people to remain sheltered as another line of storms neared. And she said deputies were en route to some of the hardest hit areas to prevent looting, amid reports "that some of that has already started."
"We have our hands full. There are already a lot of situations where we have to go out and help," she said.
Among the most dramatic images of the day were from a freight truck depot on the south side of Dallas, where one twister flung semi-trailers high in the air and hundreds of feet from their parking spots.
The lot is owned by Wisconsin-based Schneider National Trucking Company. Company spokeswoman Janet Bonkowski said there were no injuries at the facility and no damage to the building, "but significant damage to the equipment that was in our yard."
About 65 people work at the site, and about 300 truckers pass in and out every day, she said.
A tornado watch remained in effect for much of north-central Texas through Tuesday night.
The weather service urged people in the area to move to a bathroom, closet or hallway on the lowest floor of their buildings and take cover.
CNN's Sean Morris, Joe Sutton and Brian Todd contributed to this report.
Source: http://edition.cnn.com/2012/04/03/us/texas-weather/index.html?eref=edition