China dissident ready to open new chapter in his life
NEW: Chen Guangcheng says he and his family are checked on to a flight to New York
NEW: Chen says he, his wife and two children have not yet seen their own passports
China has said blind human rights activist can apply to study abroad
U.S. authorities have completed the paperwork for him to travel to the United States
Beijing (CNN) -- Chen Guangcheng, the Chinese human rights activist who ignited a diplomatic frenzy when he escaped house arrest last month, says he is at Beijing airport Saturday and is getting ready to fly to New York.
He and his family checked in and are expected to travel on a United flight from Beijing to Newark International Airport.
Chen told CNN he, his wife and two children were waiting to clear security, although they had had not yet seen their own passports.
China has said that Chen, who is blind, can apply to study abroad.
ChinaAid, a Texas-based Christian human rights organization, said its president, Bob Fu, had spoken to Chen Saturday.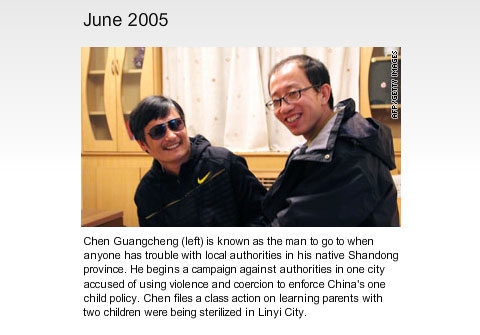 Chen Timeline
Chen told him that Chinese officials had instructed the family to pack up and leave for the United States that day, ChinaAid said in a statement.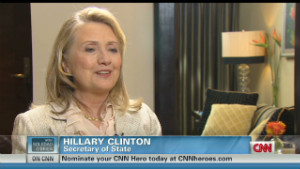 Clinton: China will let Chen come to U.S.
"ChinaAid and (the) Chen family deeply appreciate the international community's tireless efforts for Chen and his immediate family's freedom," the statement added.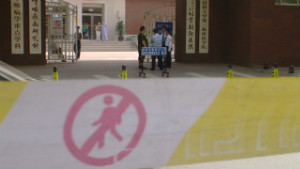 China cracks down on Chen's supporters
Chen told CNN the short notice for his departure did not surprise him.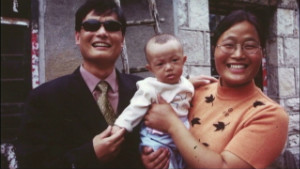 Part 1: Advising Chen Guangcheng
Chen said Wednesday he had received passport applications for himself and his family.
U.S. authorities have completed all the processing for Chen, his wife and two children to travel to the United States, where Chen has been invited to study by New York University, State Department spokeswoman Victoria Nuland said this week.
"He is continuing to work with his government," she said. "Our information is that those conversations, contacts, and processing continue."
Activist's escape like a Hollywood thriller
Earlier this week, U.S. lawmakers listened to Chen describing reprisals that he said his relatives continue to suffer at the hands of the authorities in Shandong Province in eastern China.
"My elder brother was taken away by these thugs without any reasoning and then they came back and started beating up my nephew, and they used stakes and violently beat him up," Chen told the House Foreign Affairs Committee in a telephone call from his hospital room.
Family suffering reprisals, Chen tells lawmakers
Chen added that his relatives' homes had been broken into and they had been beaten by people working for the government.
ChinaAid urged the international community to continue to monitor the situation for Chen's extended family in China, amid concerns over possible reprisals by the authorities.
CNN's Steven Jiang contributed to this report.
Source: http://edition.cnn.com/2012/05/19/world/asia/china-us-chen/index.html?eref=edition