Greece's interim Cabinet sworn in as crisis deepens
Greeks will go to the polls on June 17, just over a month after the last elections
Interim Cabinet ministers will take the oath of office Thursday
Greece's political instability raises doubt about whether it will stay in the eurozone
Angela Merkel says she's working to keep Greece inside the currency union
Athens, Greece (CNN) -- Cabinet ministers in Greece's interim government are expected to be sworn in Thursday, as the country grapples with a political and economic crisis that could have effects far beyond its borders.
About 10 days ago, Greeks voters punished the major parties at the polls for the harsh budget cuts imposed by the country's international lenders. The result of the election left no party able to form a government, creating deep uncertainty about Greece's ability to continue to meet the terms of its bailout package and therefore its debt obligations.
Greece will hold new elections on June 17, state media reported Wednesday. A caretaker administration led by a senior judge will run the country in the meantime.
News of the election date came as Greeks pulled hundreds of millions of euros out of the banking system amid fears that the country will not be able to stay in the European Union's single currency. Some of the parties that have fared well in the recent elections reject the current terms of Greece's deal with international creditors.
Interim Prime Minister Panagiotis Pikrammenos was sworn in Wednesday. The president's office said Cabinet ministers will take their oaths of office Thursday morning.
The political deadlock is leading to concerns that Greece will not have a functioning government in place when it needs to make critical debt payments next month, which could in turn jeopardize its place in the eurozone, the group of 17 European Union countries that use the euro currency.
And a crisis could quickly spread beyond Greece, one analyst warned.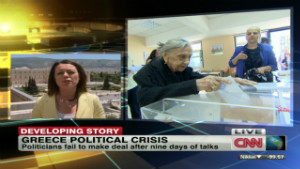 A caretaker government for Greece?
"If Greece exits the euro it won't be alone. Others will exit," said Paul Donovan, a global economist with UBS bank.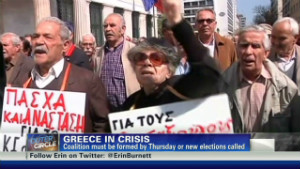 Outer Circle: Turmoil in Greece
"There would be bank runs across multiple countries," he predicted. "Citigroup, for example, may not be exposed to Greece, but it may be exposed to Portugal, Spain, France. ... It may be exposed to a company that's exposed to France or exposed to exports to EU."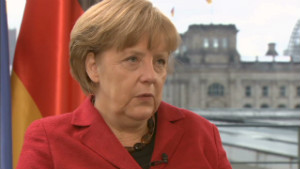 Merkel on Greece: Had to be done
In a worst-case scenario, he said, "you're talking about widespread defaults in the corporate sector as well as the sovereign sector. It becomes very problematic."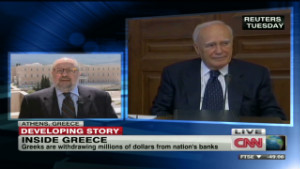 Greece eurozone membership at stake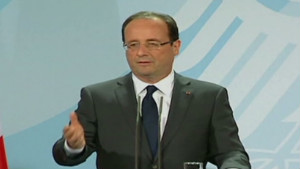 Hollande hopes Greece stays in eurozone
Even so, most major European stock markets closed Wednesday virtually unchanged. And leading Asian indexes did not show any dramatic movements in morning trading Thursday.
The euro gained some ground against the U.S. dollar on Thursday but remained close to a four month low.
European leaders were united Wednesday in saying they want to help Greece stay in the euro.
As Greek politicians met to set the new election date, German Chancellor Angela Merkel said she regrets the suffering of the Greek people in the face of harsh government budget cuts.
"It's very bitter, obviously," she said of the austerity measures that have left some Greeks struggling to pay for food or utilities.
But, she said, "Sacrifices had to be made. ... I think these are necessary measures that had to be taken."
Merkel, a champion of forcing governments to balance their budgets in order to promote stable economic growth in Europe, did offer possible assistance to Greece.
"Europe needs to show solidarity and help, particularly with growth, unemployment and development," she said.
The head of the European Union's executive body, the European Commission, said Wednesday that Greece is "part of our family," and that the EU will do what it can to keep Greece in the euro and the union.
But the final decision has to come from the Greek people, Jose Manuel Barroso said.
"We are fully aware that the present situation is asking a lot of the Greek people, with many sacrifices. But this is a result of policies made in the past," he said.
"The program for Greece is the least difficult of all the difficult alternatives. The problems it addresses are real," he warned.
Merkel and Barroso spoke after news of the big withdrawals of euros from Greek banks, prompting the president of Greece's central bank to warn that panic is possible but is not taking place.
Greeks pulled about 800 million euros out of the banking system Monday, President Karolos Papoulias said.
He said he had spoken to Central Bank Governor George Provopoulos about it.
"There is, of course, no panic, but there is fear that could develop into panic," Papoulias said, describing what the bank governor told him. "He also said that the strength of banks is very weak at the moment."
Merkel said she is working to keep Greece in the eurozone, but she refused to be drawn into talk about what would happen, if Greece did not meet its debt obligations.
The head of the European Central Bank echoed Merkel's remarks.
"I want to state that our strong preference is that Greece will continue to stay in the euro area," Mario Draghi said in a speech in Frankfurt on Wednesday.
The European Central Bank and International Monetary Fund have been pumping money into Greece to keep the country in the euro and able to pay its debts, but they have demanded that the Greek government slash spending to get the funds.
Radical leftist leader Alexis Tsipras, whose Syriza party reaped the benefits of voter frustration with the austerity measures, urged Greeks on Tuesday to continue resisting "the parties of the bailout."
Read Tsipras equate austerity with 'hell'
"They asked us to leave the country without any hope," he said, arguing that the May 6 election had made the terms of the bailout "null and void."
New Democracy leader Antonis Samaras, meanwhile, said his party will "keep fighting for a developing Greece within Europe" and "against those who say they want to get Greece out of Europe."
His party narrowly came in first in the May 6 elections, but opinion polls since then have suggested that Syriza would finish in first place in a new election.
Matthew Chance reported from Berlin, and Antonia Mortensen reported from Athens. CNN Business Producer Katy Bryon, CNN's Per Nyberg and journalist Elinda Labropoulou contributed to this report.
Source: http://edition.cnn.com/2012/05/17/world/europe/greece-politics/index.html?eref=edition