Opposition: Syrian regime orchestrated bombings
"Some countries are inciting outside forces to interfere," Russian foreign minister says
Sergei Lavrov, in Beijing for talks with China, does not specify the countries
Both nations have vetoed U.N. Security Council resolutions condemning the Syrian regime
But they agree to a peace plan headed by Kofi Annan
Are you there? Send us your images or video.
(CNN) -- Russia condemned the massive suicide bombings in Syria and accused outside nations of instigating violence to heighten the 14-month uprising that has left thousands dead.
The massive blasts Thursday left more than 50 people dead in a crowded Damascus neighborhood.
"Some countries are inciting outside forces to interfere into the Syrian situation, which is unacceptable," Russian Foreign Minister Sergei Lavrov said, according to Chinese state media.
Lavrov, in Beijing for talks with his Chinese counterpart, did not specify the countries.
"Such acts aim to push the country to a new bloody and extremely dangerous wave of violence," he said.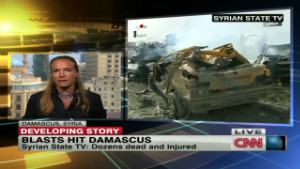 Twin explosions rock Syria's capital.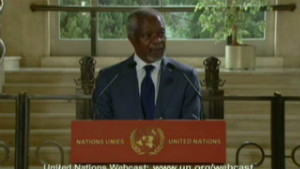 Annan: Civil war possible in Syria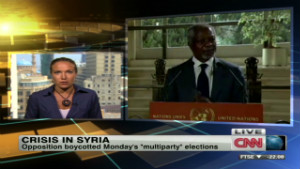 Annan: Syria running out of options
During the news conference after the bombings Thursday, both leaders emphasized their rejection of outside military intervention in Syria and the need for the government and the opposition to engage in dialogue.
"To appropriately address the Syrian issue, all sides concerned should respect Syria's independence, sovereignty and territorial integrity," said Yang Jiechi , the Chinese foreign minister.
The Syrian people should decide their own fate, Yang said, according to Xinhua news agency.
Both nations have vetoed a U.N. Security Council resolution condemning the Syrian regime, but have agreed to a peace plan headed by former U.N. secretary general Kofi Annan.
Their comments come as the international community tries to secure a fragile cease-fire that has failed to halt violence pitting regime forces against anti-government protesters.
The bombings Thursday were the single deadliest attack since Syrian forces began cracking down on dissenters in March 2011. Two "booby-trapped cars" filled with more than a ton of explosives blew up at an intersection in densely populated Damascus neighborhood, killing 59 people, the opposition Syrian Observatory for Human Rights said.
Syria's U.N. ambassador Bashar Jaafari said 56 people died and 372 others suffered "grave injuries" in the attack near four schools. It also destroyed Syria's intelligence agency building.
An additional 20 people died Thursday in the hands of security forces nationwide, opposition activists said.
Annan is weighing an invitation to meet with President Bashar al-Assad in Syria, a senior U.N. source said as the deadly blast in Damascus drew widespread condemnation.
Syria's foreign minister invited him over the past few days, and the invitation was not tied to Thursday's attack, the source said.
Annan brokered a cease-fire deal that was to take effect April 12. Since the truce, some days have been calmer, but violence has continued. The Local Coordination Committees of Syria, a network of opposition activists, reports at least 1,025 people have been killed since that date.
Al-Assad's government blames "terrorists," the term it uses to describe the opposition and rationalize security forces' crackdown.
Analysts said the attack raises concerns about the presence of jihadist elements in Syria, noting the Damascus strike resembles suicide car bombings during the sectarian violence prevalent in Iraq in the past decade.
The attack was "very likely" carried out by an al Qaeda-linked group called the Al Nusrah Front for the People of the Levant, which has claimed credit for recent suicide attacks in Damascus and Aleppo, said Bill Roggio, an analyst on terror and military issues.
He said another jihadi group -- the Al Baraa Ibn Malik Martyrdom Brigade -- has also surfaced, and that al Qaeda in Iraq has had a "strong presence" in Syria. Foreign fighters entered Iraq through Syria during the war there.
Syria's anti-government protests started peacefully in March of last year, but a government crackdown spawned violence that prompted some military defectors to take up arms against the regime forces. The government has consistently blamed the violence on "armed terrorists."
The United Nations estimates that at least 9,000 people have died in the conflict while opposition groups put the death toll at more than 11,000.
CNN's Joe Sterling, Amir Ahmed and Faith Karimi contributed to this report.
Source: http://edition.cnn.com/2012/05/11/world/meast/syria-unrest/index.html?eref=edition