'Detailed proposal' at Iran nuclear talks
The meeting takes place a day after the IAEA said it expects a new deal with Iran soon
The Baghdad talks are a follow-up to a meeting held last month
Iran's nuclear program has created tension in the Middle East and beyond
Tehran insists the program is for peaceful purposes, but Israel wants it to end all enrichment
(CNN) -- Officials from six world powers are due to hold talks with Iranian representatives in Baghdad on Wednesday about Tehran's controversial nuclear program.
The meeting takes place the day after the head of the International Atomic Energy Agency said he would soon sign an agreement with Iran, a sign that Tehran may have agreed to broader inspections of its nuclear facilities.
The Baghdad talks come at a critical time for Iran. The country's economy has been crippled by sanctions imposed by the United Nations, the United States and the European Union. And since 80% of Iran's foreign revenues are derived from oil exports, an embargo by the EU set to go into effect in July will put further pressure on its economy.
Western powers fear Iran may be trying to build nuclear weapons, despite its insistence that its nuclear program is for peaceful purposes.
The meeting Wednesday is a follow-up to last month's talks between Iran and the so-called P5+1: the United States, France, Russia, China, Britain -- the five permanent members of the U.N. Security Council -- plus Germany.
Tensions over Iran's nuclear program have unsettled the Middle East, with Iran threatening earlier this year to close the Strait of Hormuz, a vital oil shipping lane, if sanctions were imposed on its exports of crude oil.
Meanwhile, Israel, which is believed to have its own nuclear arsenal, has said it may attack Iran to prevent it from developing nuclear weapons.
Prime Minister Benjamin Netanyahu, who has repeatedly raised alarms about Iran's nuclear development, said Monday that the world powers "must show determination, not weakness" in the upcoming talks.
"They do not need to make concessions to Iran," he said in remarks distributed by his office. "They need to set clear and unequivocal demands before it."
Israel wants Iran to halt all uranium enrichment, give up all nuclear fuel it has enriched so far and dismantle the Fordo enrichment plant it built into a mountainside.
"Only thus will it be possible to ensure that Iran will not have a nuclear bomb," Netanyahu said.
Leaders of the so-called Group of Eight -- the United States, Canada, the United Kingdom, Germany, France, Italy, Japan and Russia -- called Saturday on Iran to comply with the requirements of the IAEA and open its doors to nuclear inspectors.
In a declaration, the G8 leaders said they welcomed the resumption of talks.
They urged Iran to engage "in detailed discussion about near-term, concrete steps that can, through a step-by-step approach based on reciprocity, lead towards a comprehensive negotiated solution which restores international confidence that Iran's nuclear program is exclusively peaceful," according to the declaration.
The IAEA has been demanding access to sites where Iran could be doing weapons-related testing. The agency's director-general, Yukiya Amano, met with Iran's top nuclear negotiator, Saeed Jalili, in Tehran on Monday
"During the meeting, we discussed a wide spectrum of different issues, including nuclear disarmament, peaceful use of nuclear energy and strengthening (the position of) the agency." Amano said Tuesday in Vienna after returning from the visit to Iran.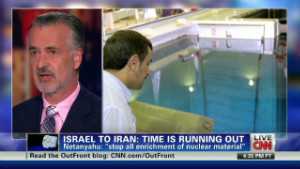 Israel to Iran: Time is running out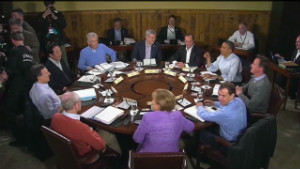 Obama: G8 unified in approach to Iran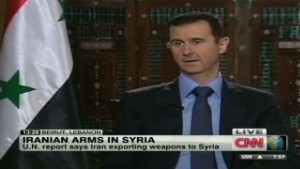 Iran accused of arming Syria
"During my stay in Tehran, there was an important development on the structured approach document on which we were working since January," he said, adding that a "decision was made by me and Mr Jalili to reach the agreement on the structured approach."
Amano told reporters he raised the issue of access to Parchin, the military complex believed to have been the site of high-explosive tests related to nuclear weapons research.
"This issue will be addressed as part of the implementation of the structured approach document," he said.
Amano said differences remained, but Jalili said they would not pose obstacles to signing the agreement.
The "decision was made to conclude and sign the agreement," Amano said.
Iran's state-run Islamic Republic News Agency said that in meetings, both sides "discussed present problems more candidly, providing each other with proposals to remove ambiguities and expand cooperation."
Foreign Minister Ali Akbar Salehi "welcomed the new IAEA approach toward Iran's nuclear issue based on mutual understanding and bilateral respect," IRNA reported Tuesday.
CNN's Reza Sayah contributed to this report.
Source: http://edition.cnn.com/2012/05/23/world/meast/iran-nuclear/index.html?eref=edition