Nicklaus' advice to McIlroy
Jack Nicklaus tells Rory McIlroy to spend more time at U.S. Open venue
World No. 2 struggling to find form ahead of his title defense next week
Northern Irishman visited Olympic Club after missing cut at Nicklaus' Memorial
Nicklaus says McIlroy needs to learn from both his successes and failures
(CNN) -- When Jack Nicklaus gives you advice, it pays to listen. Rory McIlroy did so last year, and he won his first major tournament.
Now, having missed three cuts in a row ahead of his U.S. Open title defense next week, the world No. 2 has again acted on the wisdom of one of golf's greatest champions.
McIlroy had intended to pay his first visit to the host course, San Francisco's Olympic Club, just days before the season's second major tees off.
But after a joint interview with Nicklaus, hosted by Shane O'Donoghue of CNN's Living Golf show, the 23-year-old decided to go there early and use the free window that opened up when he missed the weekend action at the Memorial Tournament run by the "Golden Bear."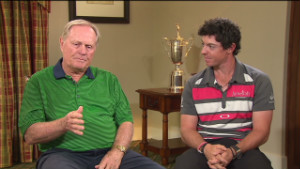 Nicklaus offers McIlroy U.S. Open advice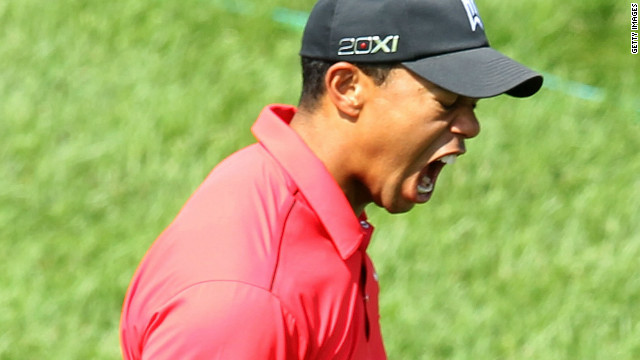 Tiger Woods celebrates after chipping in for birdie on the 16th hole during the final round of the Memorial Tournament.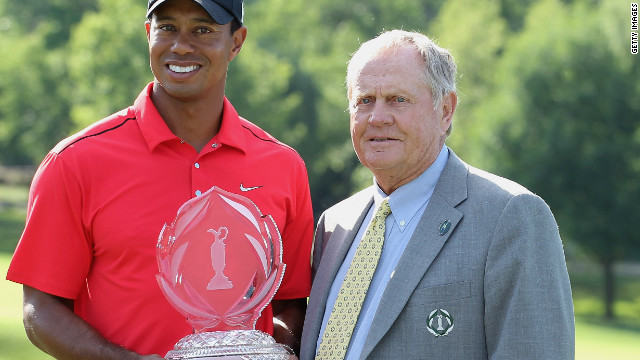 Woods tied tournament founder Jack Nicklaus on 73 PGA Tour titles after winning by two shots for his second victory this season. They are second equal behind Sam Snead's record 82 wins.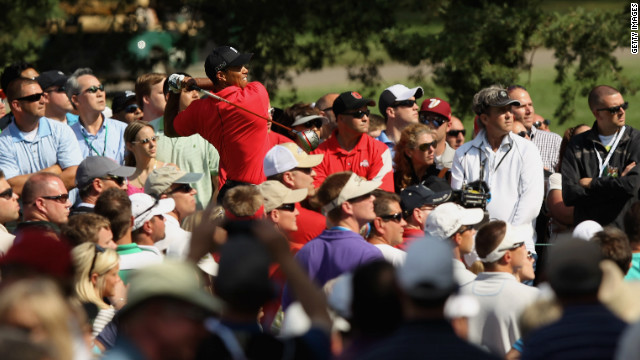 Despite personal problems and injuries in the past two years, the former world No. 1 is still a big drawcard with golf fans.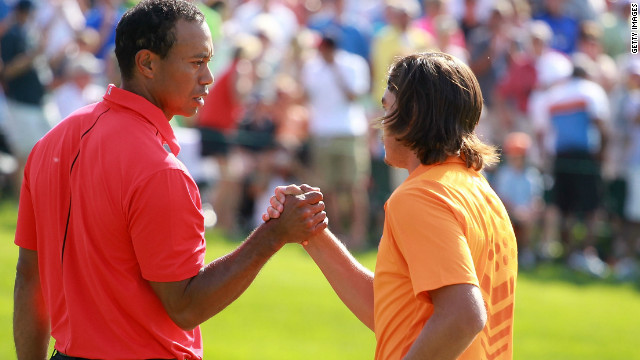 He completely overshadowed rising star Rickie Fowler in the final round, with his highly-rated playing partner slumping to a 12-over 84 after being in title contention.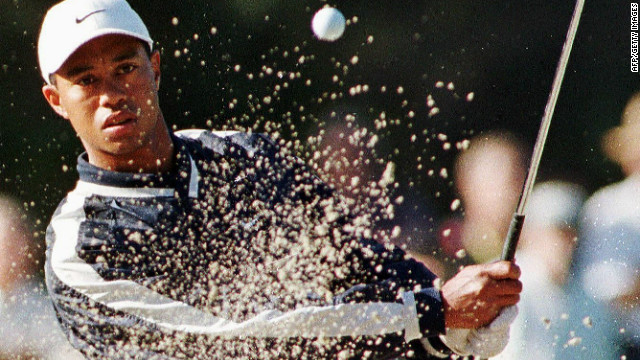 Next week's U.S. Open will be played at San Francisco's Olympic Club, where a youthful Woods tied for 18th when the golf season's second major was played there in 1998.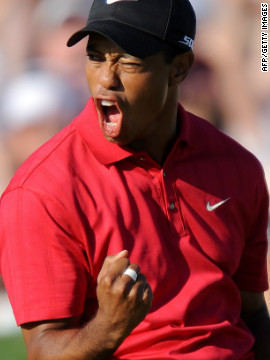 Woods will be seeking his 15th major title, and first since the 2008 U.S. Open -- where he won in a playoff despite suffering a serious knee injury.
Joining the 'Golden Bear'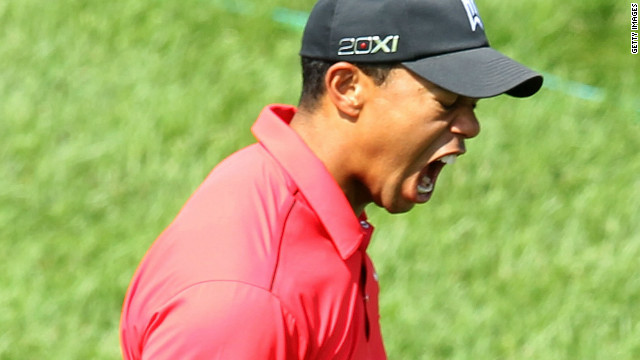 Tiger Woods ties with Nicklaus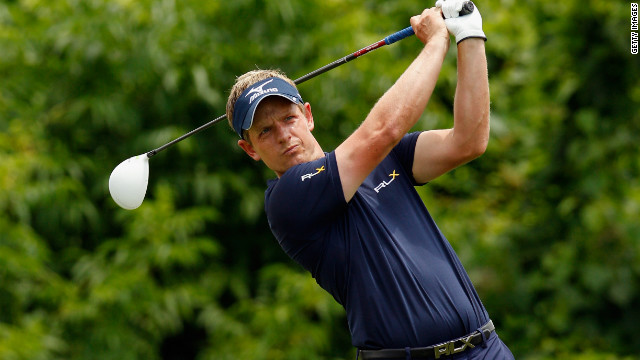 Luke Donald ended Rory McIlroy's two-week stay at the top of the world golf rankings with a third-place finish at the Zurich Classic -- his best result of the year.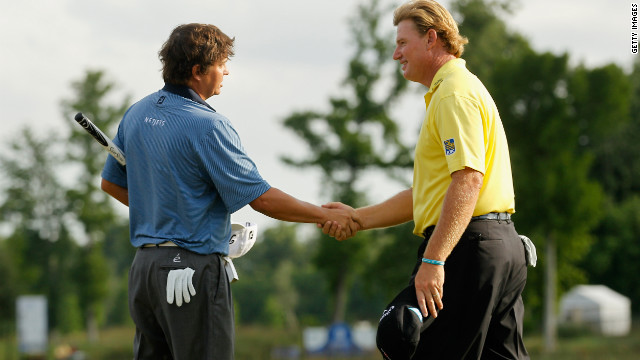 American Jason Dufner beat Ernie Els in a playoff at the Zurich Classic for his first PGA Tour win at the 164th time of trying. Els' two-year title drought goes on, but he likely did enough to qualify for the U.S. Open.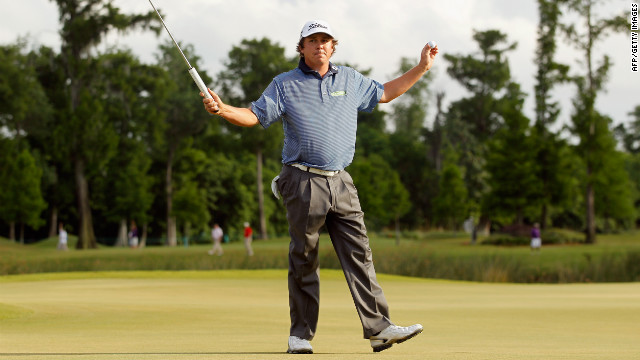 After Els missed a 6-foot birdie putt to win on the first playoff hole, Dufner two-putted for birdie on the next to finally claim his first title -- the weekend before he gets married.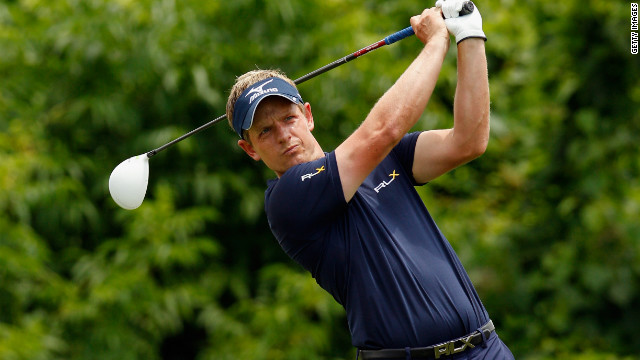 Donald returns to No. 1 as Dufner wins at last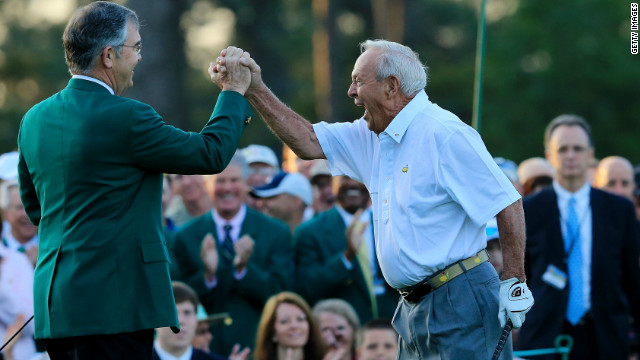 Arnold Palmer, right, celebrates with Augusta National president Billy Payne after launching the 2012 Masters with a ceremonial tee shot 50 years after his "Annus Mirabilis." Palmer was joined by fellow golf legends Jack Nicklaus and Gary Player in making the honorary drives down the fairway.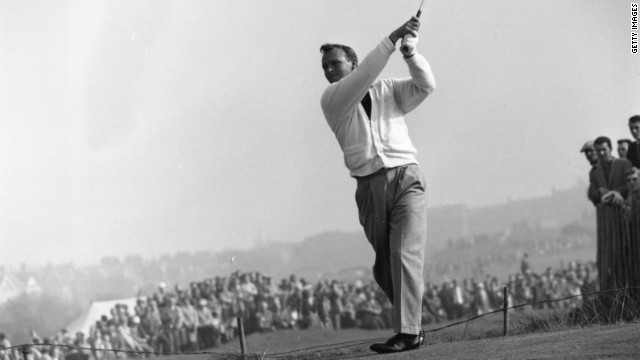 Palmer was the most recognizable sportsman of his generation and he would be followed by legions of fans who were known as "Arnie's Army." His greatest year was 1962, when he won the Masters and the British Open, as well as topping both the PGA Tour money and scoring lists.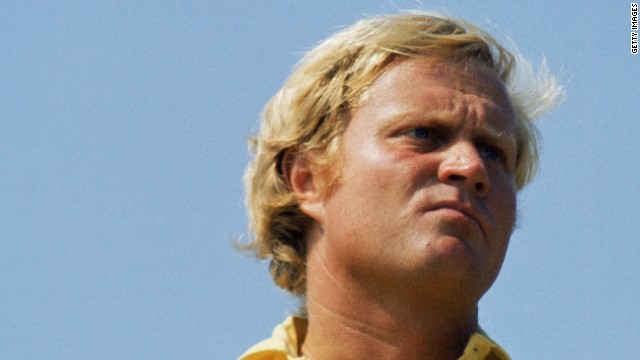 Nobody has won more major tournaments than Nicklaus, with Tiger Woods the only player threatening to match the Golden Bear's record of 18 major titles. His greatest year was 1972, when he won both the Masters and U.S. Opens, before narrowly losing to Lee Trevino in the British Open.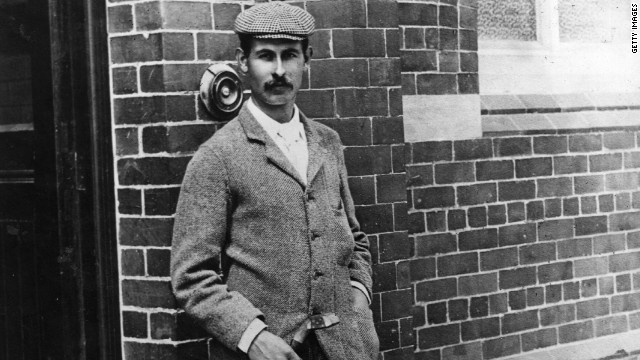 Golf has been defined by several key players in the past 100 years or so, starting with Harry Vardon -- often referred to as "Mr. Golf." In 1900 the sport's first genuine legend added the U.S. Open title to the three British Opens he had already won. His total of six British Opens is a record that stands to this day.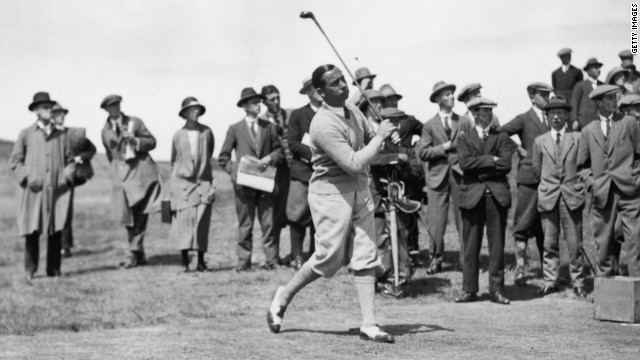 Only Nicklaus and Woods have won more majors than Walter Hagen. His tally of 11 includes two in 1924, and the New Yorker is widely acknowledged as being the first player to earn $1 million. He was also a key figure as professional golfers became accepted in the amateur era.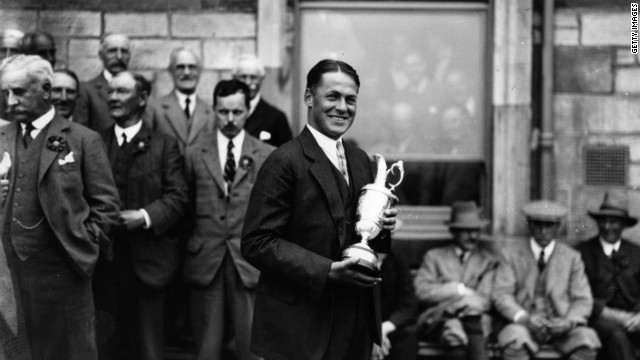 Bobby Jones was a remarkable character. A lawyer by trade, he was the leading amateur of his generation and would regularly beat the top professionals. In 1930 he won both the British Open and U.S. Open, as well as their amateur equivalents, for a grand slam that was never repeated. He retired aged just 28, but later founded Augusta National.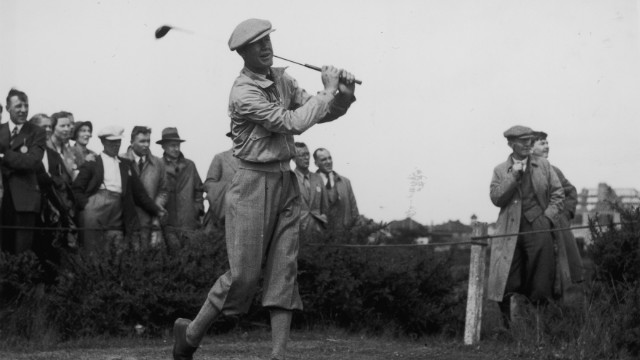 Byron Nelson's golden era was during World War II but in its final year the Texan went on a winning run that has never been repeated. In 1945, he won 18 out of 35 tournaments, including an incredible 11 in a row. Only Woods can better Nelson's record of 113 consecutive cuts made.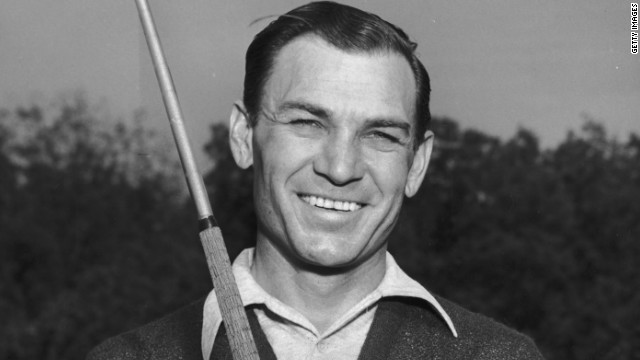 Nobody has won all four majors in the same year, but Ben Hogan went close. In 1953, Hogan won the Masters, British Open and U.S. Open but could not compete in the U.S.PGA, which was a matchplay event at the time, because it clashed with the UK major. In 1949, he had nearly died in a car accident.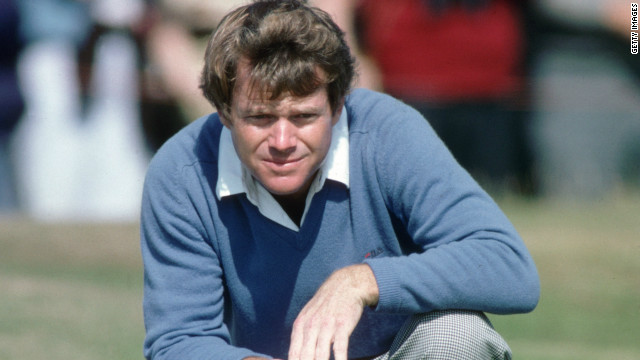 Nobody plays modern links golf like Tom Watson. Five-times a British Open champion, Watson nearly joined Vardon on six wins in 2009 when, at the age of 59, he missed out in a heartbreaking playoff. In 1982 he was at his height, winning both the British and U.S. Opens.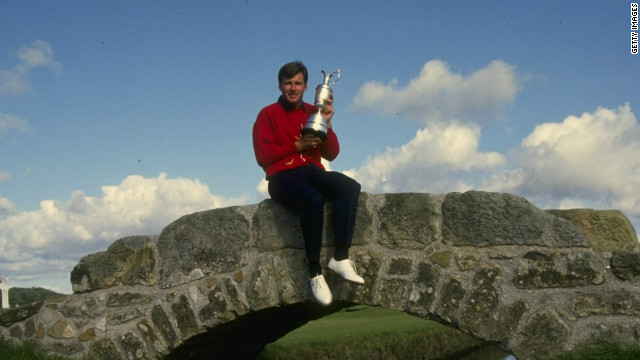 Nick Faldo won five majors in five years between 1987 and 1992, as well as finishing second in two others. His greatest year was 1990, with victories in both the Masters and British Open -- the latter by a dominant six strokes -- as well as being named player of the year on both the European and PGA Tours.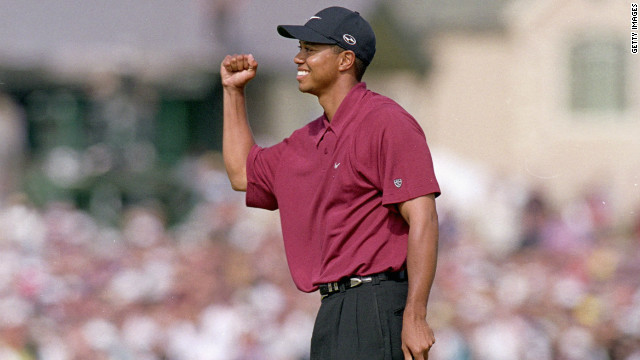 To many, Woods is the greatest player the world has seen. He had already won two of his 14 majors prior to 2000 but the new millennium saw him play golf from another planet. Aged 25, the American won three of the four majors and then the 2001 Masters to become the first man to hold all four titles at once.
Three legends launch Masters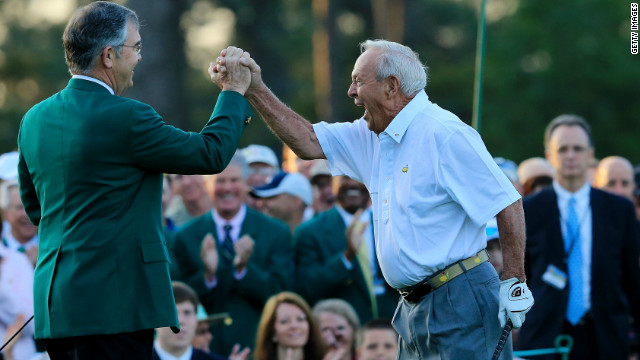 Greatest golfers' greatest years
McIlroy had planned to go straight from Muirfield Village to Memphis for this week's St. Jude Classic in the hope that more competitive play would help restore the form that has made him the world's most exciting young player.
But it was Nicklaus, winner of a record 18 major titles and joined by Tiger Woods on Sunday in second place on the PGA Tour roll of honor with 73 victories, pointed him in the right direction.
"My wife has always had a statement, which is: 'There is no excuse for not being prepared,' " the 72-year-old said.
"I know that there were times when I wasn't prepared and I got exactly what I deserved -- nothing."
Woods revealed after his victory on Sunday that he had visited Olympic before the Memorial, and that it had been perfect preparation.
"Not to disparage the Memphis tournament, but nobody remembers who won last year in Memphis. They do remember who won last year's U.S. Open. We will never forget that," Nicklaus said.
After self-destructing in the final round at last year's Masters, McIlroy turned to Nicklaus for advice.
"I said it is really important to know what happened and that you understand what happened to you and that you will try not to make the same mistakes," Nicklaus said.
"I said that I had given away a U.S. Open where Arnold (Palmer) won, I gave away a British Open by not knowing how to win and I gave away another U.S. Open not knowing how to win -- but I learned from it.
"Then he went right on to win a U.S. Open and absolutely blitz the field. I dropped him a note saying that you obviously learned something in Augusta, but more important did you learn something from your win?
"The two are a combination and are very important to his career. He has a great, great future in front of him."
McIlroy won by eight shots at Congressional, setting the lowest score in U.S. Open history as he smashed the previous best total set by Nicklaus, Woods, Lee Janzen and Jim Furyk.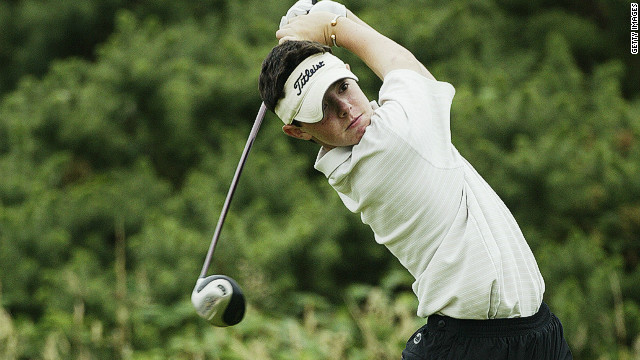 Rory McIlroy has risen to the top of golf's world rankings after winning the Honda Classic in Florida on Sunday. It caps a remarkable rise for the 22-year-old Northern Irishman in recent years. Here he is as a 14-year-old playing at the Boys Home Internationals at the Royal St David's Golf Club in Wales in August 2003.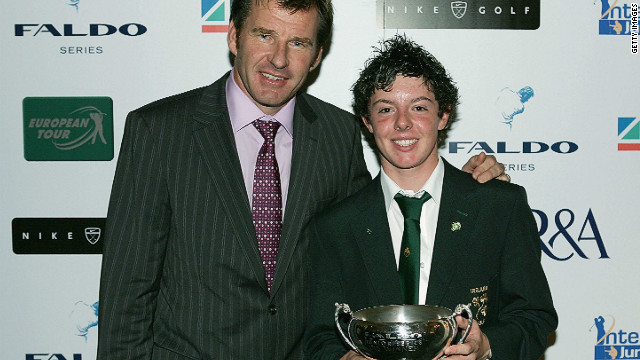 McIlroy got into the winning habit early, finishing top in the Under-15 boys competition of Nick Faldo's junior golf series in 2004. The following year he would shoot a course record 61 at the Dunluce links at Royal Portrush Golf Club in Northern Ireland. His astonishing eleven-under par total included nine birdies and an eagle.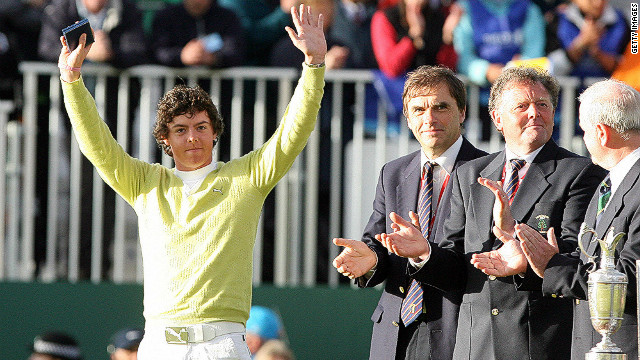 McIlroy finishes as low amateur at the 2007 Open Championship held at Carnoustie, Scotland.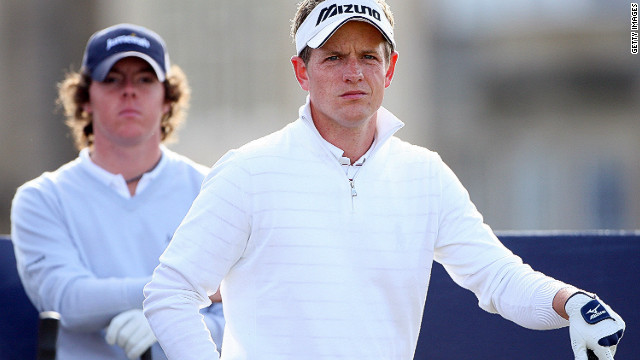 Look behind you! Rory McIlroy and Luke Donald at the Alfred Dunhill Links Championship in 2007 where the Northen Irishman finished third to mark his arrival in the professional ranks.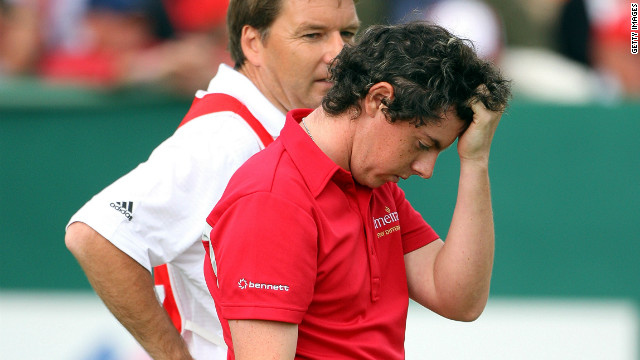 A dejected McIlroy reflects on a missed putt during a playoff at the 2008 Omega Masters in Switzerland. The 19-year-old narrowly missed out on his first European Tour win losing out to Jean-Francois Lucquin from France.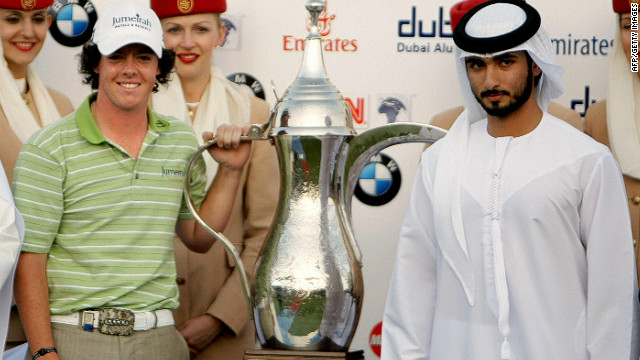 Three months before his 20th birthday, McIlroy claimed his first European Tour title winning the Dubai Desert Classic in February 2009, beating England's Justin Rose by a single shot.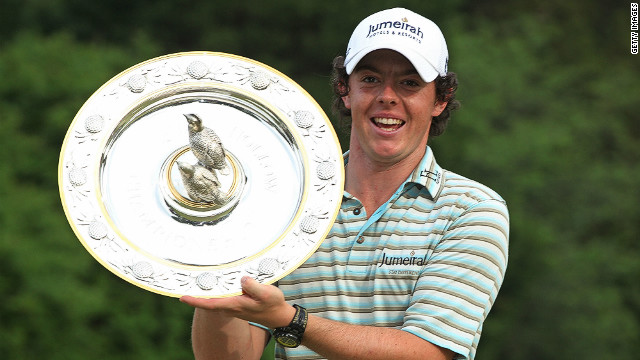 McIlroy claimed his first PGA Tour victory at the Quail Hollow Championship thanks to a stunning final round of 62 in May 2010.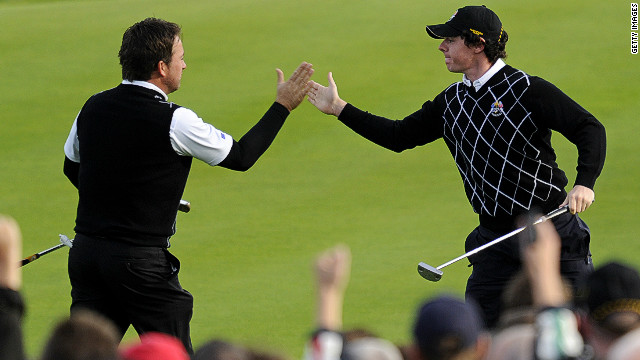 His debut in the Ryder Cup was equally successful as Europe beat the U.S. team at Celtic Manor Resort, Wales in October 2010. His paring with fellow countryman Graeme McDowell was one of the highlights of the match.
McIlroy celebrates Europe's win (by one point) over the U.S. team with teammate Padraig Harrington (left) and vice-captain, Spain's Sergio Garcia.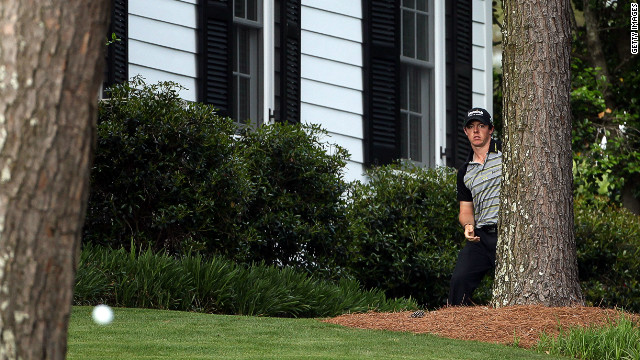 Masters disaster. McIlroy chips out from the trees on the 10th hole during the final round of the 2011 Masters at Augusta National Golf Club. He sqaundered a four-shot lead in the final round to eventually finish in a tie for 15th.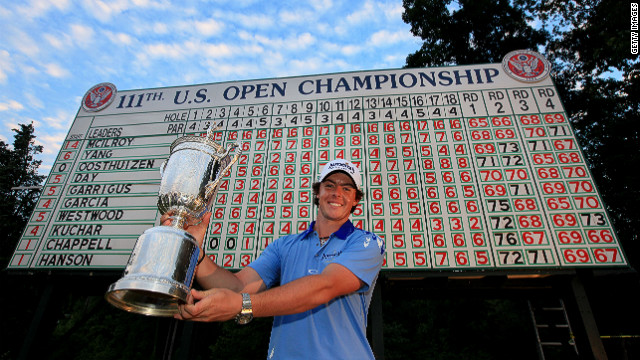 Major winner: McIlroy bounced back from his Masters collapse in amazing fashion winning the U.S. Open in a record low aggregate score of 268.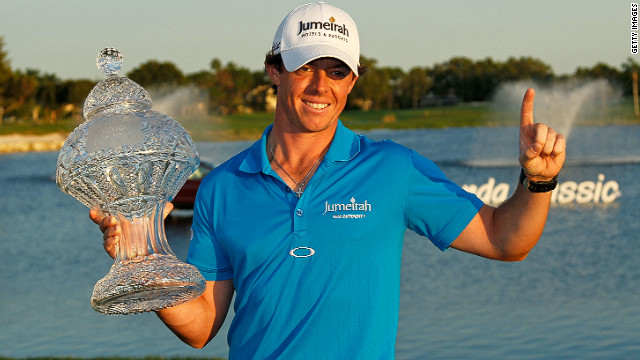 Top of the world: McIlroy's victory at the Honda Classic has seen him replace England's Luke Donald at the top of the world rankings.
From junior champion to world beater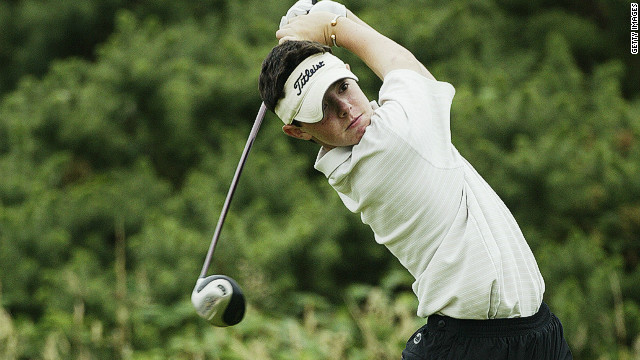 Top of the world: The rise and rise of Rory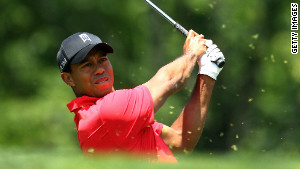 Tiger Woods back in his golf prime?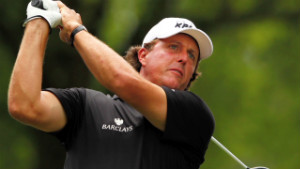 'Lefty' to enter golf's Hall of Fame
"I know Jack always went to the tournament's venue a week before and spent four or five days there to prepare," McIlroy acknowledged.
"I think the reason that he won many more majors than anyone else was because he prepared more than anyone else.
"You know when he stood on the first tee on Thursday he felt like he was better prepared than anyone else -- that in itself gives you confidence."
Time will tell if McIlroy's last-minute change of plans will solve his problems, but Nicklaus is confident that the Northern Irishman will soon be back on track.
"Rory right now is worrying how he is going to put that back together, but we all go through it," he said.
"I had the same problems. I went from 1967 to 1970 right in the prime of my career without winning a major. And you know I just found that I was probably lazy, I had too much success, I hadn't worked hard enough to prepare myself.
"I just worked myself out of it, then in 1970 I had success at the British Open and I was back again."
Source: http://rss.cnn.com/~r/rss/edition_sport/~3/NECOFezbIoY/index.html